Archive for December, 2009
Firestone 2007 Riesling, Central Coast
Have you ever had a craving for something on the sweet side… but not that sweet?  Where you feel like your cheating… but not really?  One day Risqué found himself shopping in the supermarket… incognito of course… in a place… well, we'll call Costco.  This is certainly not a foreseeable crime, but this desperate time called for desperate measures and Risqué was desperate for something sweet… but not.  Unfortunately, Risqué's local Costco wine selection has seen better day as now it seems their wine display has become the same old tired assortment.  In desperation, Risqué found himself picking up a bottle of Firestone 2007 Riesling and thought, "What the hell!"
A couple swirls and a deep inhale expose brilliant sweet honey, fresh floral and honeysuckle with a noteworthy backbone of citrus.  From the nose one would expect the taste to be overwhelmingly sweet, but the sensory innervations of the tongue reveal a crafted off-dry style with a slight sweetness of honey, melon such as honeydew and Meier lemon while coating the mouth with a nicely balanced acidity. The Riesling is cool fermented in stainless and is not only food friendly, but excellent for sipping.
Risqué made yet another stop on his way home and picked up some local Thai cuisine.  Maybe it is because the Thai boy that works at the restaurant is sweet on him and goes out of his way to make Risqué feel like a Queen King or maybe Risqué knows how sweet a Thai massage feels… Hmmm!  Desperate times call for desperate measures!
Risqué soon got his wine home, chilled it and paired it with the Thai cuisine.  The pairing brought joy to Risqué's face as the food and wine created an oral orgasmic pleasure to the innervations of his tongue.
Risqué is not so desperate after all!!!
13% Alcohol ($12) Screw top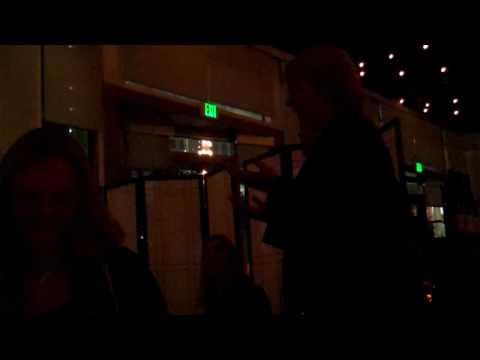 Risqué was pleased to join Kathleen Inman of Inman Family Wines, in a wine tasting at Napa Valley Valley Grille in Westwood where he imbibed in Chef Joseph Gillard's incredible pairings with Inman Family Wines…
The pairing…simply to die for!!!
Hors d'oeuvres
"Little Farm" Membrillo Glazed Heritage Pork Belly…which had Freeze Dried Pomegranate Seeds
Pan-Seared Diver Scallop and Organic Prosciutto…and Watermelon Zest
Wild Mushroom Fritters with Truffle Aioli
Paired with Inman Pinot Gris 2007 Russian River Valley
First Course
Rosé Poached Pear and rosé syrup and buratta cheese
Paired with Inman Rosé of Pinot Noir 2008 "Endless Crush" Russian River Valley
Main Course
Salmon Creek Farm Roasted Heritage Pork Loin and roasted farmer's roots vegetables
Paired with Inman "OGV" 2006 Pinot Noir, Russian River Valley
Also poured glasses of the Thorn Ridge Ranch 2006 and 2007 Pinot Noir
Cheese Course
Farmstead Artisan Cheese "Little Farm" membrillo, mostardo and homemade digestive crackers
Paired with the Inman 2006 Russian River Pinot Noir, Sonoma County
Risqué , befuddled that some of his Risqué LUSHES did not make it to the swirling wine affair, shrugged his shoulders, sighed and continued cavorted with his new Risqué LUSHES!
'The function of muscle is to pull, not to push, except in the case of the genitals and the tongue.'
[Leonardo Da Vinci]
Santa Cruz Mountain Vineyard 2004 Durif, McDowel Valley Vineyard, Mendocino

It has been said the Risqué has been gifted with subtleties of flair. Whether it is decorating, fashion, cooking or all the flair he has received on Facebook, Risqué detected a certain flair when he came across a Santa Cruz Mountain Vineyard's 2004 Durif.
A deep dark burgundy ripples in the glass flairing to purple edges. Right out of the bottle, spice dominates the scents leading to over ripe dark fruit, cedar and black pepper. More dark fruit, blackberries and a light oaky finish delights the taste buds in a full bodied, medium tannin wine that could lie down a few more years.
Risqué decided to decant the wine, reducing the amount of spice that brought on a delightful earthiness and calmed the tannins making it delicious and drinkable now…some would call it panache!
Petite Sirah actually is synonymous with the Durif grape derived from Dr. Francois Durif, an amateur French botanist and was planted in the US by James Concannon in 1883. Somewhere in the 1880's the growers changed the name to Petite Sirah. In 1961, Concannon Winery became the first to bottle Petite Sirah on its own. Risqué's tendency towards flair would have renamed the very common sounding Durif as well!!!
Having also a flair for pairing food and wine, Risqué chose to pair the Durif with a thick medium-rare Pepper Rubbed Grilled Rib-eye. A flamboyant delight…Delish!!!
Alcohol 14.0% ($18) Natural Cork Closure
Risqué , in his endeavor to find anything Risqué had a delightful evening last night enjoying the musical holiday tunes of the West Coast Singers. Risqué wishes everyone a happy Weiner Wonderland.